CV or curriculum vitae also called resume or biodata which we use to apply for any job.
I am providing CV samples and the free  CV downloadable template because CV can be the first impression of where you are getting a job.
sample of cv for job application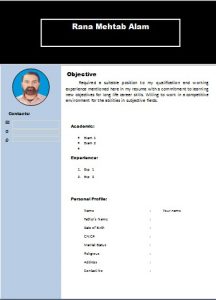 Preview —- Download CV Template
---
Your name
Address
Email
Contact No
Objective:
Required a suitable position to my qualification and working experience mentioned here in my resume with a commitment to learning new objectives for long life career skills. Willing to work in a competitive environment for the abilities in subjective fields.
Academic:
• Exam 1
• Exam 2
Experience:
1. Exp 1
2. Exp 2
Personal Profile:
Name                     :                    Your name
Father's Name     :
Date of Birth        :
CNIC#                   :
Marital Status      :
Religious               :
Address                 :
Contact No           :
---
You can contact me for Professional CV Designing