A Greedy Dog Modern Age Story for kids. It is an interesting, instructive and motivational
بچوں کے لیے ایک لالچی کتے کی جدید دور کی کہانی۔ یہ دلچسپ، سبق آموز اور حوصلہ افزا ہے۔
by Rana Mehtab Alam.
How our behaviour influences others?
ہمارا رویہ دوسروں کو کیسے متاثر کرتا ہے؟
Once there lived a dog. It thought it was not greedy.
But after reading this story you will give your remarks in the comment section, whether it was greedy or not.
One day the dog was wandering around looking for food. It went to the door, to the door and to the neighbourhood, to the neighbourhood searching for food.
ایک دفعہ وہاں ایک کتا رہتا تھا۔ اس نے سوچا کہ یہ لالچی نہیں ہے۔
لیکن اس کہانی کو پڑھنے کے بعد آپ کمنٹ سیکشن میں اپنی رائے دیں گے کہ یہ لالچی تھا یا نہیں۔
ایک دن کتا خوراک کی تلاش میں گھوم رہا تھا۔ یہ کھانے کی تلاش میں ہر دروازے سے دروازے تک اور محلے سے محلے  تک میں گیا۔
The Dog was hungry
کتا بھوکا تھا۔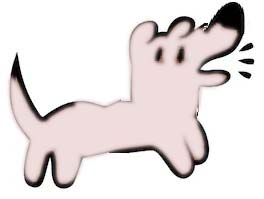 It barked at the doors but nobody came out to see why it was barking It tried to tell the people in it's bhu bhu voice, that how much it was feeling hungry.
وہ دروازے پر بھونکتا رہا لیکن کوئی باہر نہ آیا کہ یہ کیوں بھونک رہا ہے اس نے اپنی بھو بھو آواز میں لوگوں کو بتانے کی کوشش کی کہ اسے کتنی بھوک لگ رہی ہے۔
From a door, a woman came out, and the dog ran to her. And asked her in (bhu bhu) to give it any food. But she did not try to understand the dog's request. She hit the dog with the stone.
ایک دروازے سے ایک عورت نکلی اور کتا اس کے پاس بھاگا۔ اور (بھو بھو) میں اس سے کہا کہ اسے کوئی کھانا دیں۔ لیکن اس نے کتے کی درخواست کو سمجھنے کی کوشش نہیں کی۔ اس نے کتے کو پتھر مارا۔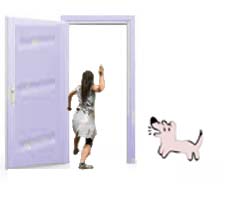 And the poor hungry dog ​​ran away.
اور بھوکا کتا بھاگ گیا۔
No one gave food to the hungry dog.
کسی نے بھوکے کتے کو کھانا نہیں دیا۔
Here I would like to ask a question.  Daily how much food we wasted and put it in the dustbins. You know if we share it with needy people or with the animals like this hungry dog.
یہاں میں ایک سوال پوچھنا چاہوں گا۔ ہم روزانہ کتنا کھانا ضائع کرتے ہیں اور کچرے میں پھینک دیتے ہیں؟ آپ جانتے ہیں کہ ہم اسے ضرورت مندوں یا اس بھوکے کتے جیسے جانوروں کے ساتھ بانٹتے ہیں۔
Believe me, you will be surprised your shared food will be increased by 10 times more.  It is really true we get more by sharing.
یقین کریں آپ حیران رہ جائیں گے کہ آپ کا مشترکہ کھانا 10 گنا زیادہ بڑھ جائے گا۔ یہ واقعی سچ ہے کہ ہم اشتراک کرنے سے زیادہ حاصل کرتے ہیں۔
There is a lesson  for everyone in a greedy dog modern age story
ایک لالچی کتے کی جدید دور کی کہانی میں سب کے لیے سبق ہے۔
What lesson should we teach to our children?
ہمیں اپنے بچوں کو کیا سبق سکھانا چاہیے؟
We should teach our children the lesson of sharing. We must tell them that sharing increases, not decreases.
ہمیں اپنے بچوں کو بانٹنے کا سبق سکھانا چاہیے۔ ہمیں انہیں بتانا چاہیے کہ اشتراک بڑھتا ہے، کم نہیں ہوتا۔
Now the dog decided to go to the market.  It was thinking maybe it found anything there for eating.  It went to a food shop. Where waiters were wasting customers' leftovers in the dustbins.
اب کتے نے بازار جانے کا فیصلہ کیا۔ یہ سوچ رہا تھا کہ شاید اسے وہاں کھانے کے لیے کچھ ملے۔ یہ کھانے کی دکان پر گیا۔ جہاں ویٹر گاہکوں کا بچا ہوا کھانا کوڑے دان میں ضائع کر رہے تھے۔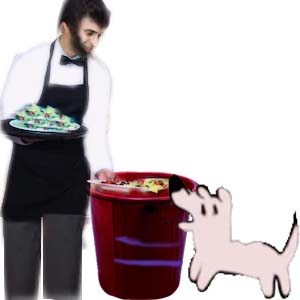 Dog tried to tell them please don't waste it. Give it to me. I am very hungry. I will give you prayers. Please Please Please.
In its bhu bhu bhu bhu …….
کتے نے انہیں بتانے کی کوشش کی کہ برائے مہربانی اسے ضائع نہ کریں۔ یہ مجھے دو. مجھے بہت بھوک لگی. میں تمہیں دعائیں دوں گا۔ مہربانی، مہربانی، مہربانی.
But all in vain.  Nobody wants to feel and know about the feelings of the hungry dog. So it went to the butcher's shop.  Where the butcher was busy making meat for his customers.
لیکن سب بے سود۔ کوئی بھی بھوکے کتے کے احساسات کو محسوس اور جاننا نہیں چاہتا۔ چنانچہ یہ قصاب کی دکان پر گیا۔ جہاں قصاب اپنے گاہکوں کے لیے گوشت بنانے میں مصروف تھا۔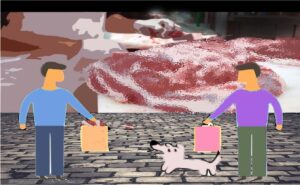 What did the dog decide to do?
کتے نے کیا کرنے کا فیصلہ کیا؟
Dog requested to each customer and as well as to butcher to give it's an unused piece of meat. But everyone was in their own mind.
کتے نے ہر گاہک اور قصاب سے درخواست کی کہ وہ گوشت کا ایک غیر استعمال شدہ ٹکڑا دے دیں۔ لیکن سب اپنے اپنے دماغ میں تھے۔
No one could feel how hungry the dog was.
کوئی محسوس نہیں کر سکتا تھا کہ کتا کتنا بھوکا تھا۔
Finally, exhausted, it decided to steal the piece of meat.
آخر کار تھک کر اس نے گوشت کا ٹکڑا چرانے کا فیصلہ کیا۔
Why did the dog become the thief?
کتا چور کیوں بنا؟
The dog was really not a thief.  But the circumstances and the attitude of the people were forcing it to become a thief.
کتا حقیقت میں تو چور نہیں تھا۔ لیکن حالات اور لوگوں کے رویئے اسے چور بننے پر مجبور کر رہے تھے۔
Dog again loudly barked bhu bhu bhu
Actually, it was the final try to tell the people about their hunger.
کتا پھر زور سے بھونکتا ہے بھو بھو
دراصل یہ لوگوں کو ان کی بھوک کے بارے میں بتانے کی آخری کوشش تھی۔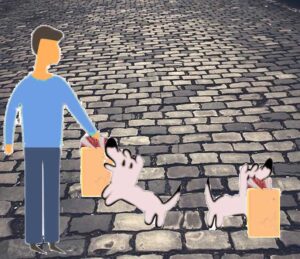 It jumped on a customer's meat shopper. And snatched the shopper and ran away.
یہ ایک گاہک کے گوشت کے شاپر پر چڑھ گیا۔ اور شاپر چھین کر بھاگ گیا۔

On its way, it was passing over the bridge. It kept that meat shopper on one side. And peeped in the water from the bridge.
راستے میں پل کے اوپر سے گزر رہا تھا۔ اس نے اس گوشت کے شاپر کو ایک طرف رکھا۔ اور پل سے پانی میں جھانکا۔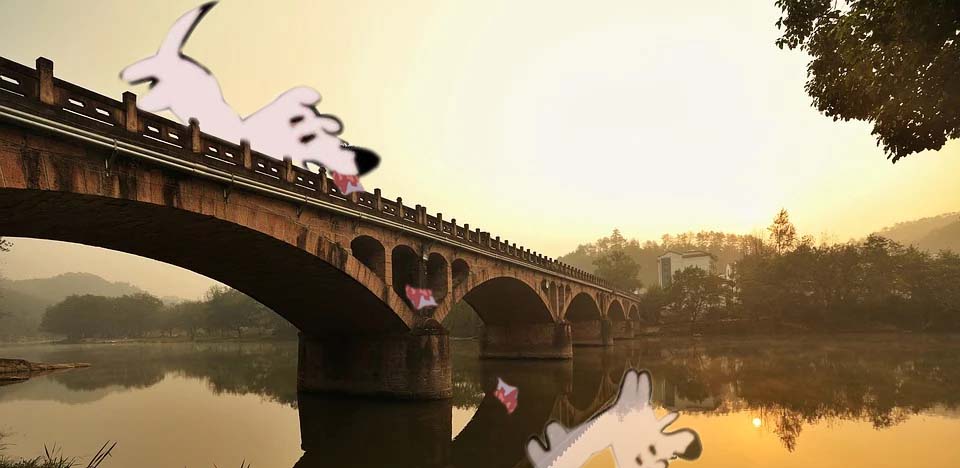 The dog saw its own reflection in the water. It felt that another dog is there. It dropped some pieces of meat in the water for that dog. And walk ahead. The dog of this greedy dog modern age story was very happy after doing this act.
کتے نے پانی میں اپنا عکس دیکھا۔ اسے لگا کہ کوئی اور کتا ہے۔ اس نے اس کتے کے لیے گوشت کے کچھ ٹکڑے پانی میں گرائے۔ اور آگے چلنا۔ اس لالچی کتے جدید دور کی کہانی کا کتا یہ حرکت کر کے بہت خوش ہوا۔
Moral: Kindly take care of those around you and feel the hunger for living things.
انتیجہ: برائے مہربانی اپنے آس پاس والوں کا خیال رکھیں اور جاندار چیزوں کی بھوک محسوس کریں۔
Just share your leftover food with them. I assure you you will be rewarded as much that can't count.
بس اپنا بچا ہوا کھانا ان کے ساتھ بانٹیں۔ میں آپ کو یقین دلاتا ہوں کہ آپ کو اتنا انعام دیا جائے گا جو شمار نہیں کیا جا سکتا۔
---

If you liked this story, kindly copy and paste this link A Greedy Dog Modern Age Story into your post.
---
You will also like the story unity is strength, Modern Story 
---
Thank you a lot for reading this "A Greedy Dog Modern Age Story story". Hope you enjoyed reading this.  You can also read my other stories for children
I am also providing computer training on this website.
---